A beautiful FREE app that is a spin-off product of Ann Voskamp's book, One Thousand Gifts, is a must-have for those of us who want to manage our trials in a God-exalting way. In this app, you can treasure and track your own list of 1000 gifts showered upon your life by our wonderful Lord and King! I have found that this is a vital antidote to the "Woe is Me" thinking that can plague me when I am faced with difficult people or challenging circumstances.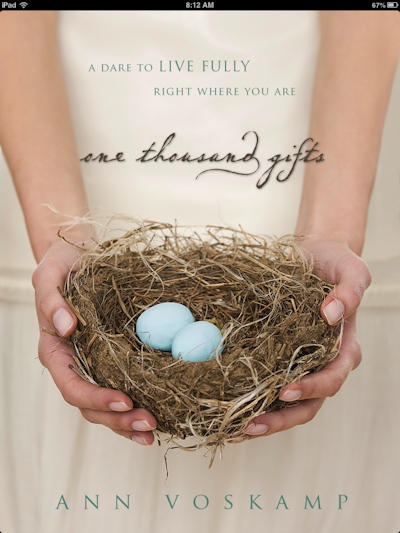 Beautiful from start to finish, only restful David Nevue music (such as what Ann has playing in the background at her website, A Holy Experience) could make this appreciably better.
After the splash screen, an inspirational quote from One Thousand Gifts is offered with an option of sharing via Twitter and Facebook or to click through. You can decide to SHARE the quote with Facebook, Twitter, or other services.
After the quotation screen, your primary "home base" appears. You will see the "list" of gifts you have recorded on the right side or make a selection from options on the left. I love that I can see all the gifts I have previously listed from my "home base" in this app.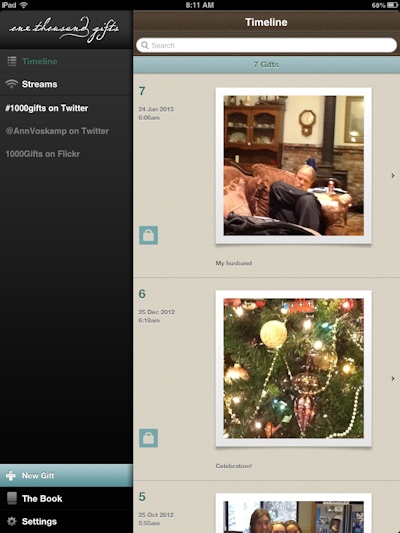 There is such joy in living life with eyes open to the gifts that our marvelous, benevolent God is showering on our lives! Select NEW GIFT and you have the option of entering the gift as TEXT or as MEDIA.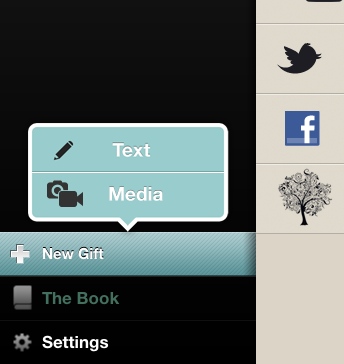 If you select Media, you will be asked if you want to use the built in camera feature to grab a snap shot of the gift or if you want to use an image in your gallery already saved on your device.
If you select Text, you will be given a screen where you can "Add a Note." Even if you select a photo to use, you can "Add a Note" for text, which is a nice feature.
For every gift you record in the app, you can select whether you want your addition to be Private, shared in Email, sent to Twitter, Facebook, or Flickr.
Another feature in this app is a "Streams" feature. I love this, as I can select #1000gifts and see what other people have posted to Twitter. It helps me to get a flavor of how gratitude impacts others!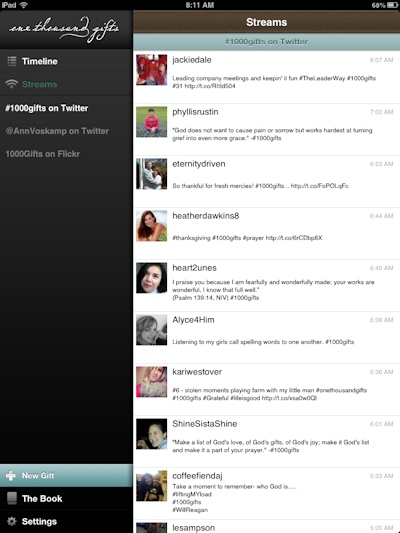 You can't actually respond to any of these streams like you would if you were using Twitter directly or Tweetdeck. This is, perhaps, one drawback of the app. It would be fun to be able to "Follow" some of the people I find on the #1000 gifts stream. Another stream you can select is "1000Gifts on Flickr."
Another "Stream" you can select is Ann Voskamp's stream where you see her postings to Twitter.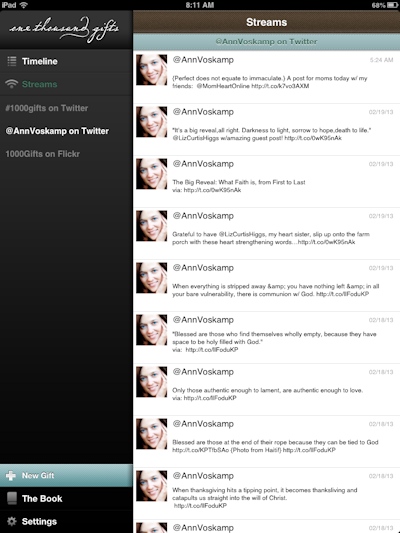 Other features are primarily to promote the book and other One Thousand Gifts products, which can be helpful if you are interested in seeing what is out there! Ann's A Holy Experience website is also accessible from "The Book" option in the left margin.
I have this app accessible on my iPad in my "Devotions" section. It is one of many options I like to have available for my quiet times.
What a great app for techie people who want to record their own One Thousand Gifts!
ASSIGNMENT
Download this app and start using it! Add three things and let me know what you think by commenting here. I would love to follow you on Twitter if you are posting any your "gifts" there. 🙂