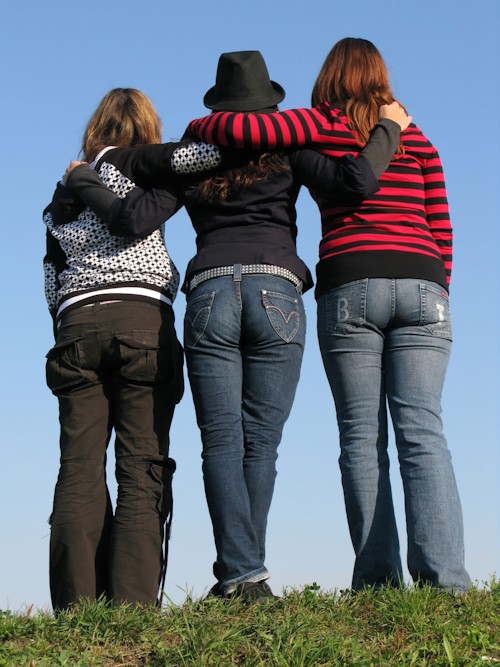 One of the temptations when we go through trials is to turn inward. Sometimes, we may want to isolate from others completely.
Then your light will break forth like the dawn,
and your healing will quickly appear;
then your righteousness will go before you,
and the glory of the Lord will be your rear guard.
9 Then you will call, and the Lord will answer;
you will cry for help, and he will say: Here am I. 

…ifyou spend yourselves in behalf of the hungry

    and satisfy the needs of the oppressed,
then your light will rise in the darkness,
    and your night will become like the noonday.
The Lord will guide you always;
    he will satisfy your needs in a sun-scorched land
    and will strengthen your frame.
You will be like a well-watered garden,
    like a spring whose waters never fail.

~ Isaiah 58:8, 9a, 10-11
Please read this passage in context to get a fuller picture. There are some definite "IF-THEN" statements in Isaiah 58. And while the situation is unique, we can pull a principle from this passage. It is this:
When we focus on other people, we will experience intimacy with God and His healing of our hearts.
When going through a trial, we may have a tendency–if we aren't careful–to be all about ME. "My challenges," "MY difficulty," The mistreatment of ME," "How unfair this is to ME."
God intends to draw us closer to Him through our trials. We may not fathom His purposes. In faith, we need to make some choices not to isolate (hide) and, beyond that, to reach out (proactively) to others to minister to their needs. This is counter-intuitive when we are hurting and need a shoulder to cry on. The last thing we may feel we can handle is giving to others.
But the principle found in this passage tells us, there is healing for mein ministering to others.
So what will this look like practically?
Continue to attend the bible studies/fellowship groups that you were before the trial. Keep showing up for church.  We may be tempted to find fault with people at these gatherings who may know our situation but are not sure if they should ask us about it. THIS IS SO VERY PAINFUL, but this, too, has been appointed to us by God. We must allow Him to have His way, even through the heartache and loneliness of others not reaching out to US the way we wish they would.
Ask the Lord how he might use YOU to encourage someone else and do it. Healing happens when we focus on the needs of others. He intends that we carry one another's burdens, so even though it hurts and is frustrating that people may not be coming alongside you to help shoulder the painful burden you are carrying, you definitely know others who could use encouragement. Offer it. Let God use you. It is amazing how encouraged we can be when we reach out to others!
Select a small number of friends (same gender only!) and be intentional about developing your friendship with them. Go to lunch or coffee or a walk together or all of the above! Select friends who will not merely pat you on the back about what a rotten situation you are in. It is much more effective if they are friends who will pray for you, hold you accountable for making godly choices in the midst of your trial and speak the truth in love to you.
Keep serving in the ministry (or ministries) that you have been serving in. The Enemy of our souls will try to get us to think that whatever we are going for or our response to it disqualifies us from being effective tools in God's hands. This is a lie. Don't buy it. If you really wonder, get godly wisdom from someone else–someone you trust. Search the scriptures to see. Remember that God used a Christian-killer to be his missionary and to write most of the New Testament. He used a man with a bunch of concubines and wives to speak in His Word about marital fidelity (Song of Songs). God takes the most unlikely of vessels and uses them for His glory.
Go shopping or crafting! Specifically, buy or make gifts for others. This is very cathartic for me. I bet it will be for you, too. Just the act of thinking about someone while I meander around Target (or a specialty store), thinking of what they might like…it really is nice NOT to think about me and what I am facing for a change!
What will you do in the week ahead to experience the healing that God intends by giving yourself to encourage others?