I live on one side of a canyon. To get from civilization to my home…or from my home to civilization, I have to drive this canyon road. Any number of logging trucks, gravel trucks, trucks pulling horse trailers or cautious (read: slow) drivers of cars use this road on any given day. Invariably, I have an opportunity to work on patience!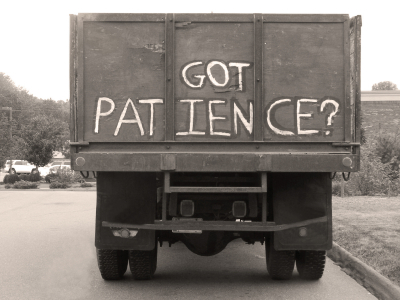 In life, God invites me to develop this characteristic by allowing situations which are, metaphorically speaking, similar to following behind a gravel truck in the canyon. Recently, he took me on a study of what it means to wait on Him. Here are a few random notes. I hope they encourage you as well.
WAIT — to remain in readiness or expectation. In Scripture, the word "wait" normally suggests the anxious, yet confident, expectation by God's people that the Lord will intervene on their behalf. Such waiting may be for answers to prayer (Ps. 25:5), for the coming of the Holy Spirit (Acts 1:4), for salvation (Gen. 49:18), or especially for the coming of the Messiah to bring salvation to His people and to establish His kingdom on earth (Ps. 37:34; Luke 12:36; Rom. 8:23; 1 Thess. 1:10). Waiting, therefore, is the working out of hope.
 Nelson's new illustrated Bible dictionary. 1995 (R. F. Youngblood, F. F. Bruce, R. K. Harrison & Thomas Nelson Publishers, Ed.). Nashville, TN: Thomas Nelson, Inc.
Waiting on God – Being prepared to patiently look towards God for his guidance and accepting the timing he proposes. Waiting on God can lead to an atmosphere of expectation and confidence in God and a realisation of the unreliability of one's own judgment.
 Manser, M. H. (1999). Dictionary of Bible Themes: The Accessible and Comprehensive Tool for Topical Studies. London: Martin Manser.
"So you, by the help of your God, return, hold fast to love and justice, and wait continually for your God." Hosea 12:6
Waiting on the Lord is intended to infuse us with courage and strength. So often I set my eyes not on HIM and His character (which gives me hope and joy), but on the thing that BUGS me…that I want to "wish away." This causes me to feel defeat and, even, depression. I can choose my focus. I will choose to focus on the God on whom I wait. He is good, sovereign and loving.
 Wait for the LORD; be strong, and let your heart take courage; wait for the LORD! – Psalm 27:14
When is it most challenging for you to wait on the Lord? What could you *do* to help your focus be redirected from whatever it is you want and don't have or have and don't want…TO the Lord, where hope is found?